Picture Gallery
Look son, how many times have I told you to wash behind your ears.
Merlin and Evie, well Evie really, Merlin was content to play hide and seek behind her and I could not get him to raise his head to look at me, I think they had their eyes on something in the garden.
Eddie and Tasia in the gardens of Ardkinglas House.
Champion Ardkinglas Val and Champion Lorrivale Garth, with their handlers, Tasia and Eddie.
I just love this picture of Archie (Dorrator Lennie) who lives near the banks of Loch Ness with his owners, Jill and Richard - he just looks so happy running full pelt it makes me want to smile, he has a wonderful home and doesn't he look like he is having fun.
I can't let go or I will fall over. One of Alison Morton's (Cotherstone)mini wire-haired dachsunds. Not a set up photo, just in the right place at the right time.
A picture of a deer standing just out of reach of the dogs the other side of our garden fence!
A few "local" pictures.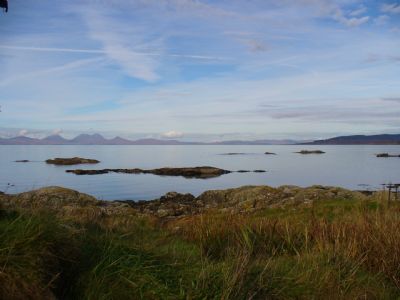 Below is a close up on one of the rocks (shown above), you can just about see half a dozen or so seals basking on some rocks.
This was so very nearly a fantastic picture, taken early one morning and the loch looked like it was a red fire through the trees, not nearly so impressive through my camera.
Bobby
When Bobby used to come to stay each year with the rest of his family, Ruth, Paul, Sarah and Laura, he used to spend most of his holiday in their van, which luckily was like a second home as, when he was not in the van, he would be the other side of our fence or gate shouting and swearing at my lot. He would tolerate Francesca however so they did go on walks together, even though Francesca had a nasty habit of running up behind him and jumping over his back, just clipping him with her paws, as poor Bobby was getting on in years and his ears were not running on full capacity, she always managed to catch him out. Coincidently, Bobby died the same week as Francesca.
Melanie with Kerry, Bru and Francesca.
This is a picture of Angus (bred by Belinda Playford, Tillyhilt) posing on a stool. Angus is a litter brother to our Evie and lives in Stirling with Jess, pictured below (bred by Rod Gillie, Dorrator).
I think Evie and Merlin are trying to tell me to hurry up and get off the phone so we can go for a walk. Strangely they are both quite happy sharing the swing chair with me, none of the others ever have.
Merlin, Evie and Mindy making the most of one of the last fires of the season, hopefully now we are into May we won't need many more.